Not seeing Keywords Everywhere's "K" icon at the top right hand side of Chrome after installing the extension?
Chrome has started hiding extensions in the toolbar. You will notice

icon at the top right of your chrome browser. When you click this icon, a menu will show a list of all the installed extensions. You need to click the
icon next to Keywords Everywhere.
Once done, you will see the "K" icon.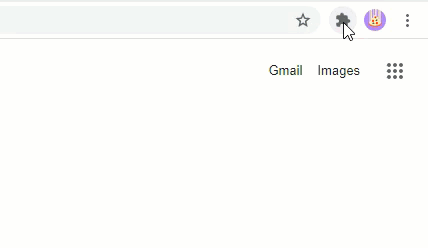 What is Keywords Everywhere?
Keywords Everywhere is a freemium chrome extension and firefox add-on that helps you with Keyword Research.
The free version has the following features
Keyword Widgets: See Related keywords, People Also Search For (PASF) keywords & Long-Tail Keywords (no volume data).

Trend Charts: See Trend chart in Google & YouTube from 2004 (no historical volume data).

YouTube Metrics: Search Insights, SERP Metrics, Video Insights & YouTube Tags (no volume data).

Traffic Metrics: View monthly estimates traffic & the top 5000 keywords that any URL or Domain (no volume data)

Moz Link Metrics: View Moz Domain Authority, DA Trend, Spam Score, Total Referring Domains, Backlinks & more

On-Page Analysis: Analyze any URL to get the list of keywords in the content of the page, and the density of those keywords (no volume data)

Competitor Gap Analysis: Find keywords that your competitors rank for, and which you do not. (no vol data)
The paid version has everything the free version has &
Accurate monthly search volume, CPC, competition & 12 month trend data.

Volume data in multiple Google properties - Google Search, Google Search Console, Google Analytics, Google Keyword Planner & Google Trends.

Volume data in multiple ecommerce websites - Amazon, eBay & Etsy.

Volume data in multiple search engines - Google, YouTube, Bing & Duck Duck Go.

Volume data in multiple SEO tools - Keyword Shitter, Soovle & Answer The Public.

Import your keywords to see accurate monthly search volume, CPC, and competition for them.

Historical volume data in the trend charts for Google & YouTube from 2004

Historical volume data obtained in bulk using Bulk Trends feature
Here is a short video that explains the differences between the free and paid version .
How much does the paid version cost to use?
We've kept the pricing extremely low so that it costs the average user only $10 a year.
You need to purchase credits only if you want to see the monthly search volume, CPC, and competition numbers.

Every time the extension gets volume data for a single keyword, it uses up one of your credits. Here is an article with more details on how credits work.

If you only care about the keywords shown in the Related & PASF widgets, the URL traffic metrics & keywords, YouTube insights & tags, then you can use the extension for free without any need to pay.
How do I setup Keywords Everywhere and start using it?
If you are interested in using the tool for free, then you only need to install the Chrome extension or Firefox add-on
If you want to purchase credits, then you need to follow the instructions below
1.

Sign up for an API key and set it up.

2.

Click the "K" icon at the top right of your browser. In the popup that opens, at the bottom, you will find the link to buy credits.

3.

Clicking this link will take you to the pricing page where you can choose the package you want to buy.

4.

Once the payment goes through, your account will automatically get the credits you've purchased.