Support for all countries on 23rd Oct Sep 2020
The latest v9.1 version of the chrome extension & firefox add-on now support the URL metrics feature for all countries - US, UK, CA, AU, NZ, IN & ZA
Major Update on 4th Sep 2020
On 4th Sep 2020, the URL metrics had a major update -
- More keywords. From 130 million to 170 million.
- More positions. We track upto 30 positions from the current 20 positions.
- Better clickstream data resulting in better CTR curves. This led to more accurate traffic estimations


URL Traffic Feature launched on 2nd Jun 2020
Here is what's new - You can now see the estimated traffic from Google for every URL as well as the top 5000 keywords that each URL ranks for.

There are two ways to see this data


(1) Data embedded directly in Google SERPs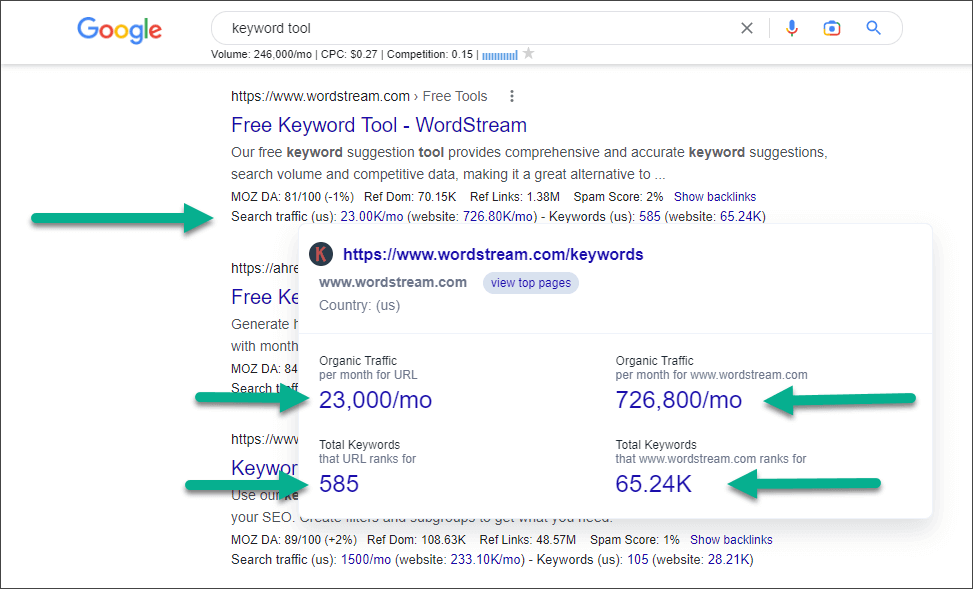 As you can see in the screenshot you can see two metrics for every URL in Google SERP - The total monthly traffic that the URL gets from US, as well as the total number of keywords that the URL ranks for (in the US)
When you click either of these two metrics, a new page opens up that shows the top 5000 keywords that the URL ranks for.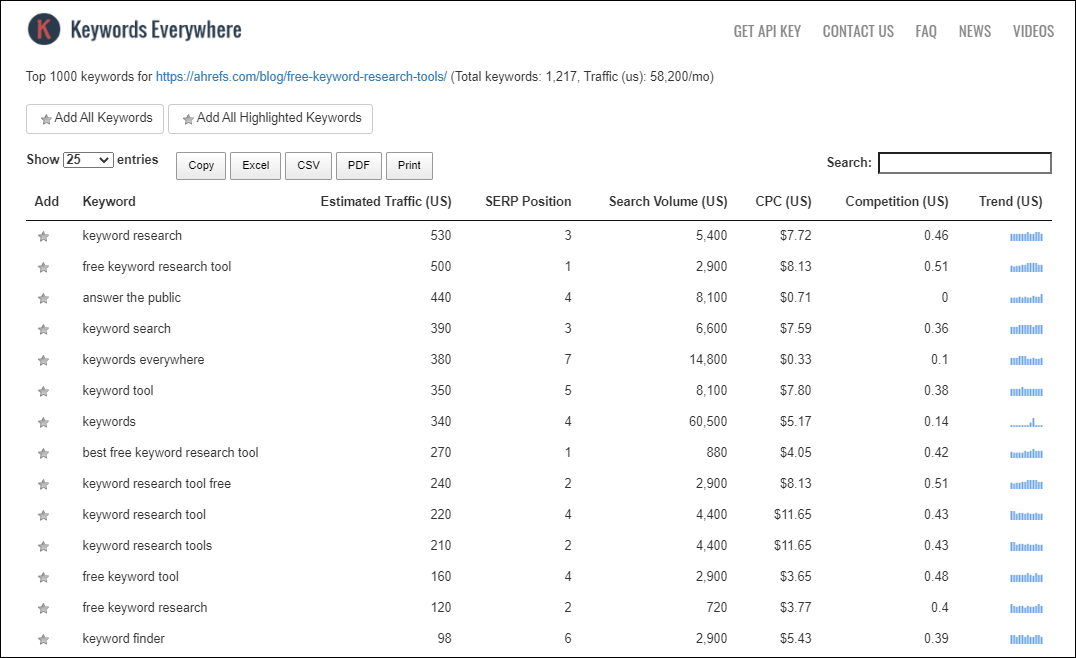 They keywords are ranked in descending order of the amount of traffic they bring in. Along with the keywords you can see the estimated organic traffic that the URL gets from Google for that keyword. You can also see the usual Keywords Everywhere metrics for each of these keywords.
Free users will see the organic traffic and total keywords for every URL. They will also be able to see the top 5000 keywords for every URL, but will not have access to the Estimated Traffic (US), Search Volume, CPC, Competition & Trend data.
(2) Get the top 5000 keywords & the traffic metrics directly for any URL
You will see a new item in your Keywords Everywhere extension menu as shown in the screenshot below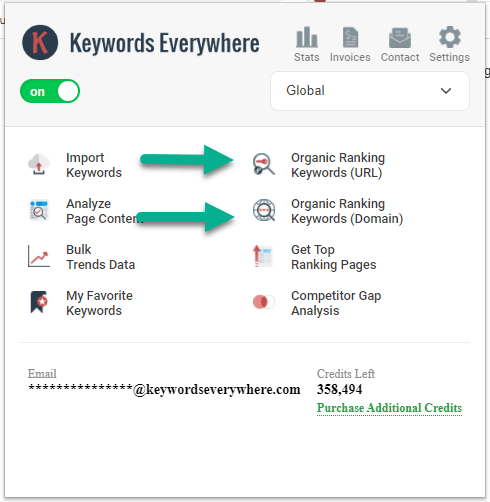 When you visit any URL that you want to get the metrics & keywords for, you can simply click this menu item, and a new tab will open up and show you the traffic metrics and the list of top 5000 keywords.
How are credits used?
No credits are used up when you view the traffic & total number of keywords for each URL on Google SERPs. When you view the 5000 keywords for the URL, one credit is used up for one keyword shown on the page. So if you view the first 50 keywords from the top 5000, 50 credits are used up to show you the estimated traffic, volume, CPC, competition and trend data for those keywords.
That's about it. We hope you will find this data very useful.
If you have any questions please don't hesitate in
contacting us about it